Throwback to the jump from a plane that I did in Dubai (& Fiji before that) and the jump off a 60 feet high pole (that's around 20 meters) that I did in Fiji few years ago. I could feel the butterflies in my stomach again as I remember those amazing experiences now.
My life since has been one huge jump after another! I defeated fear and since then, it made me feel that there's nothing I can't do. NOTHING.
I met the best people during that time and I fondly call them my Fiji Family now. They are the folks cheering 'powered by passion' in the video below. We were to ask our team for support in whatever way we wanted.
So that was what I asked for, that they cheer my slogan if they saw me hesitating or shivering in my pants. Let me tell you it was awesome to hear them as they cheered and it sure got me motivated to take the next step and the next.
I'm basically camping it out 'outside my comfort zone' for such a long time. Everything that is exciting and wonderful and scary and sexy… happens outside your comfort zone. Trust me on this one! On the day I was flying back home, there was a 10 hour wait at Fiji's main airport before I was to take my next flight.
So I decided to sky dive! It was a premeditated decision and I booked it a couple of days earlier. I figured if I can jump off a pole, the next logical thing is to jump off a plane. And so I did. This jump, the sky dive (that I did again in Dubai), or the fire walk (that I did in 2012 and again in 2014) are but a symbolic representation of me conquering my fears. It dwarfs smaller things I want to do that I'm afraid to face, do or have to deal with like confrontations, fear of failure or of being rejected. So now I hear a little voice in my head saying, if I can do any of the above mentioned craziness, how come I'm worried about doing blank… or if I can do that, what else can I do?!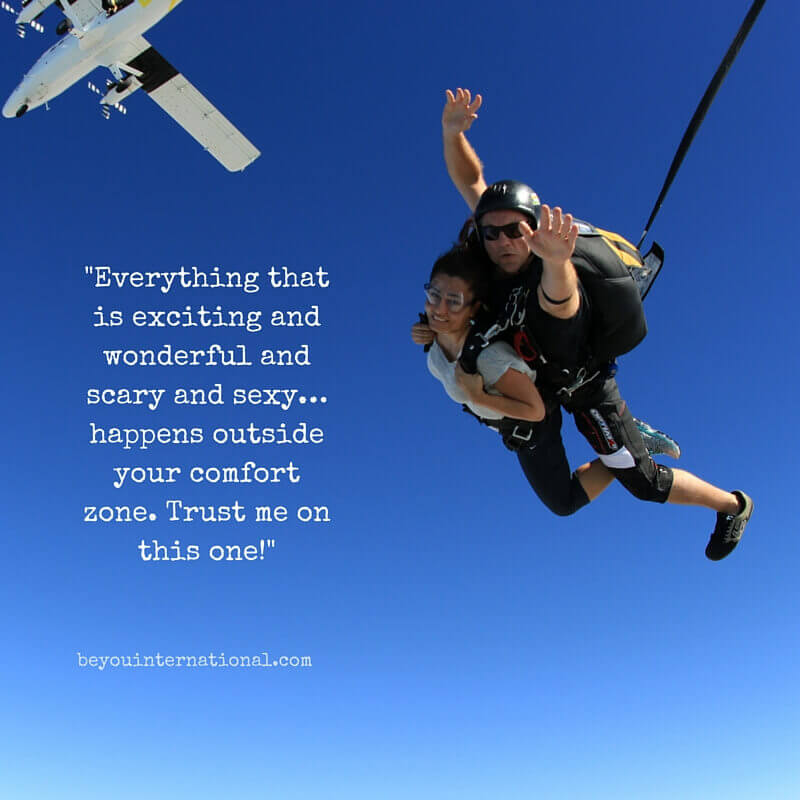 My life has changed and I'm a different person with every challenge I take.
I look stupidly silly in this video, and you can't see it but I was shivering in my pants and sweating my ass off but I hope it inspires you to take your own 'jump'…and see what happens!
What is your challenge? What hurdle do you need to jump over and leave behind forever? Be the first to leave your comment below and inspire others with what you'd challenge yourself to do publicly!